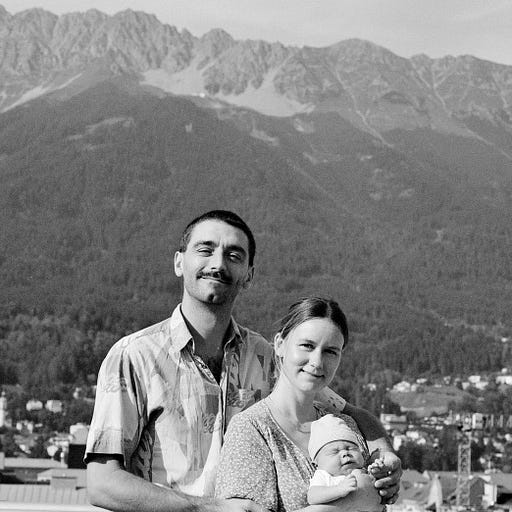 Nov 30, 2021 • 19M
To vaxx or not to vaxx? THE AUDIO EDITION
My brother Mark, reading the article that traversed the planet faster than the virus ever could.
This was a concept my brother created, a means by which to open up my vaccine article and general thematic around the significance of immunisation, to a wider audience - particularly those people who struggle to read through an entire article of such length and density as this one.
I am immensely proud of what he has delivered here - his sincerity, gravitas and incredible speaking voice are spot on. He truly did the writing justice and captured it exactly how I would have wanted it read.
With zest, gusto and geist.
Mark von Roy lives in Innsbruck, Austria an area of Europe that is plagued with the lowest average rate of vaccination in the entire OECD. It lies at around 65%, which perhaps rather fittingly, is the same exact rate of vaccination for the area where I live, in Golden Bay, on the South Island of New Zealand.
Mark is a man of many talents, he is educated in psychology and an award winning film director, photographer, writer, cameraman, actor, skier and all round swell guy.
He created, directed, presented and filmed the highly acclaimed Redbull documentary Generations of Freeskiing. It is a real treat, I can only urge you to watch. I watch it often when I am feeling a bit lacklustre and need cheering up.
Mark has been heralded as one of New Zealand's most iconic free skiers and has been influential on and off the scene for many years.
Oh and did we mention, he is also an award winning photographer?
---
Remember sharing is caring and donating is a form of sharing. If you can't afford to subscribe to the podcast or newsletter that is totally okay, you will always be able to access it for free. If you feel like sending me a one off Paypal donation (to chrisvonroy@gmail.com) then that would be awesome. Otherwise you can also become a patron on Patreon.
Thank you very much. And if you want to read my books, click here.
Mauri Ora.
"It takes generosity to discover the whole through others. If you realize you are only a violin, you can open yourself up to the world by playing your role in the concert."
The legend himself, Jacques Yves Cousteau.